Everything you need to know about SD memory cards
You may never have thought about SD cards before in your life: you got one with your first camera and you've used it ever since. Or maybe you've just bought new ones as time has gone on and camera resolutions have gone up.
But simply buying a cheap SD card based on its cost per gigabyte is often a false economy. For example, slow, bargain-basement cards will work fine while you're shooting a few images of a slow motion subject. As soon as you upgrade to a camera that can shoot more frames per second, though, you'll find yourself missing shots while your camera struggles to write to a slow card. 
Or, if you're looking to get into videography, you'll definitely find that not all SD cards were created equal. Over the years, SD cards have evolved to meet the demands of increasingly advanced cameras, from higher megapixel counts to faster bursts rates and 4K video recording.
This means they bear many different indicators as to how they can be expected to perform, which can be confusing. Luckily, we're here to demystify the process – here's how to choose the right SD card for you.
Type and brand
The first thing to look for is whether a specific card is compatible with your camera. 
Assuming your camera uses the SD format, it should be compatible with the two main types of cards manufactured today, namely SDHC (Secure Digital High Capacity) and SDXC (Secure Digital eXtended Capacity). 
Older cards that are simply marked SD will typically work with today's cameras too, although they're no longer produced, as the demands of the latest models exceed their capabilities.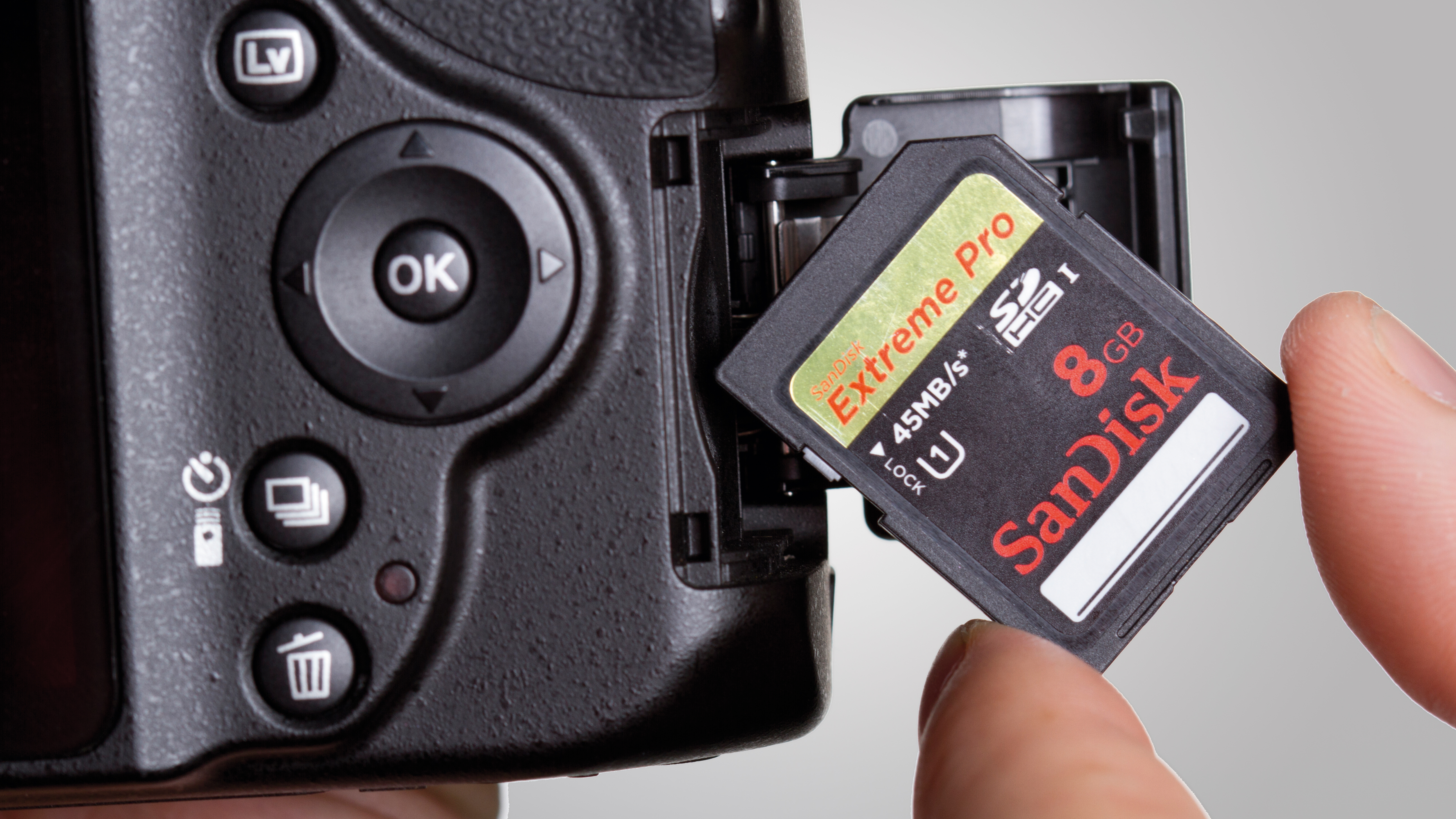 The best way to check what your camera will and won't accept is to look up the camera's specifications in the manual (or the equivalent page on the manufacturer's website).
All SDHC and SDXC cards have a small tab at the side that prevents a card's contents from being changed in any way – if you slide this tab down you won't be able to record anything to or delete anything from the card, and this is a useful way to secure your images and videos, particularly once your card is full. Sometimes this tab can be moved slightly when you're inserting a card into your camera. If you get an error message when trying to take an image, take the card out and check the tab isn't in the 'locked' position.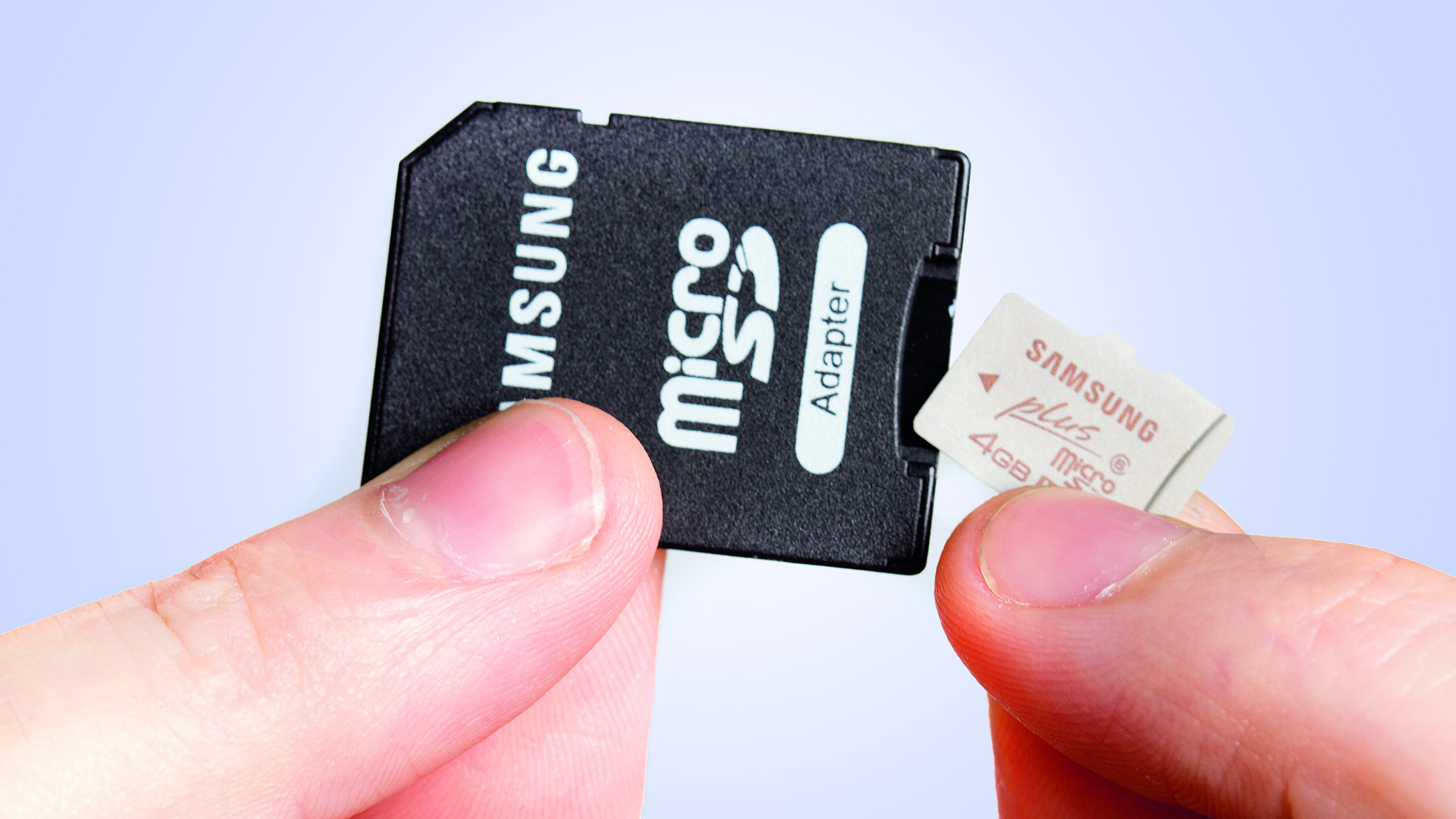 Other types of SD cards come in smaller variants, such as microSDXC. These are typically used in smartphones, although they often come with SD-sized adapters that allow them to be used in cameras and card readers.
Lexar and Sandisk are the dominant players in the market, although Integral, Kingston and Transcend produce perfectly sound alternatives that may be cheaper, while there are also options from well-known brands such as Toshiba and Samsung. Whichever brand you decide to go for, only buy from a reputable seller, as there are unscrupulous outlets offering counterfeit cards.
Capacity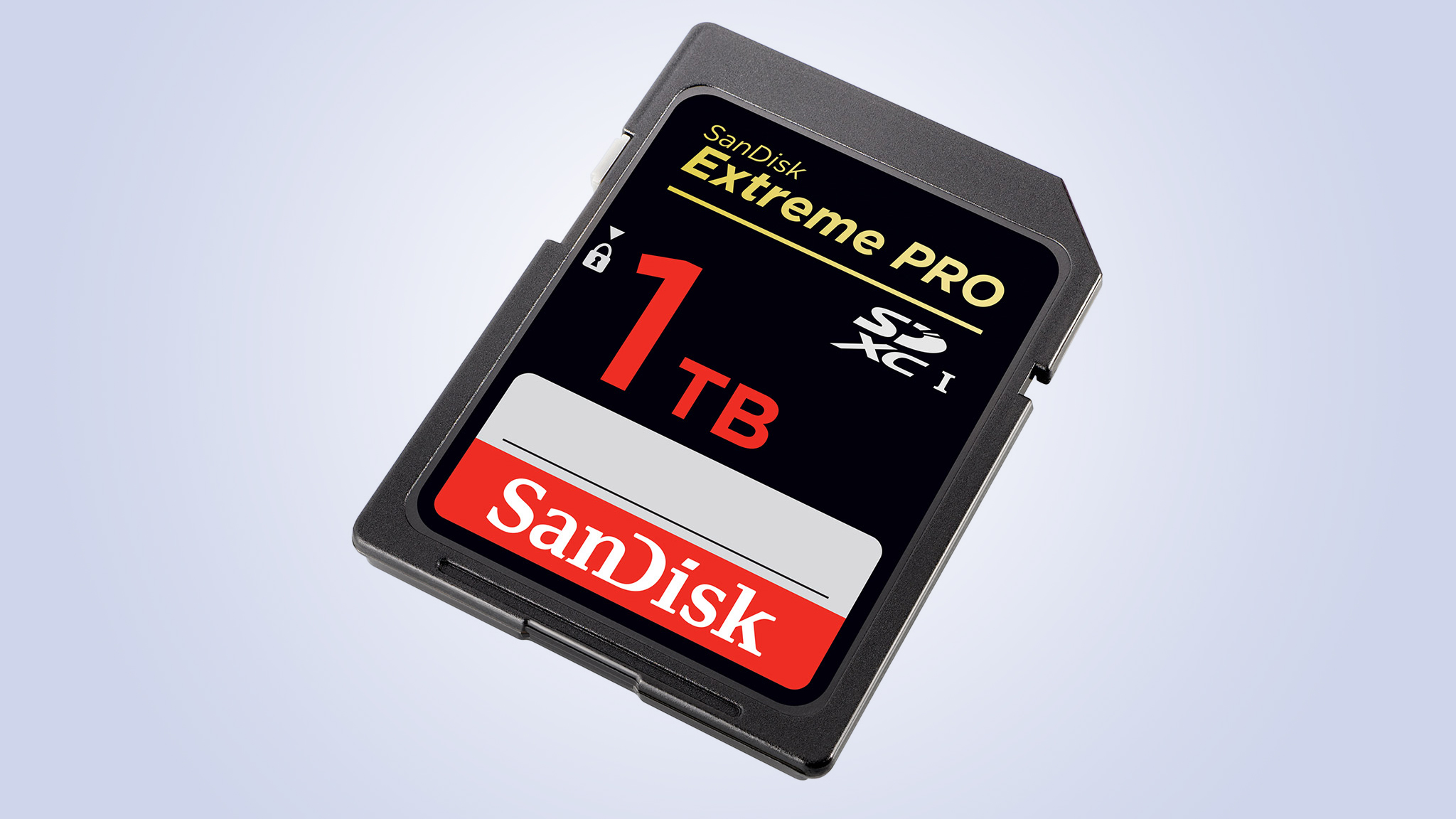 How big should your memory card be? For most people, a 32GB card is the smallest one you should consider, with 64GB likely to be the better option. And this brings us to our first acronym – all cards with a capacity of 32GB and under fall into the SDHC camp, while cards sized at 64GB and over are classed as SDXC.
The longer answer is that the size of the card depends on what kind of photographer. If you're a really keen snapper, you should aim for a card that will store between 1,500 and 2,000 images from whatever camera you currently own. 
If you shoot less frequently, a card that can accommodate 1,000 images is probably enough. You're aiming for a sweet spot here – a card that won't run out of space just as things get interesting, but that will force you to offload and backup images with relative frequency. If you shoot video, a card that can hold around an hour of good-quality film from your camera will probably suffice.
If you're a videographer, you'll need more, especially if you shoot in 4K. We wouldn't look at anything smaller than 128GB, with 256GB probably more practical if you don't want to have to offload your footage and back it up every night or two when you're away from home.
What's the biggest you can go? Lexar now makes a 1TB SD card, which is bigger than you'll find on many laptops with solid state storage. It's impressive, sure, but it's unlikely to represent very good value for money – you'll only fill it with current-generation technology if you go a long time between offloading your footage, and the idea of having 1TB of potentially priceless footage on a single card makes us go a bit weak at the knees.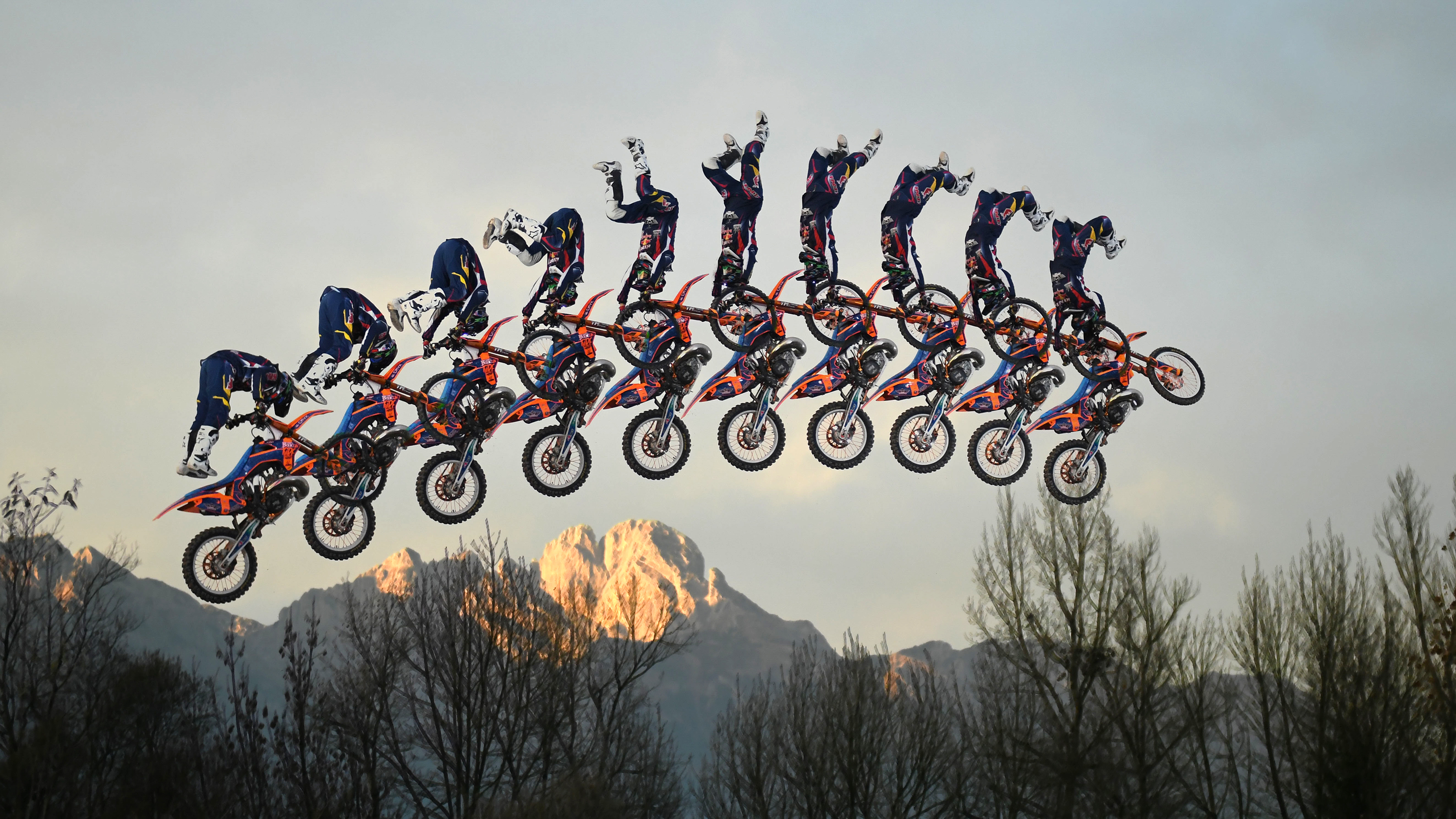 Most people find that opting for a handful of moderately sized cards is a better option than using a single larger one. This makes sense from the perspective of security – if something goes wrong with the card, for example, it's good to know that not all your images and videos are at risk – but it's also a good idea where organization is concerned. An increasing number of cameras now offer two card slots, which is another reason to invest in multiple cards rather than just one.
Speed and performance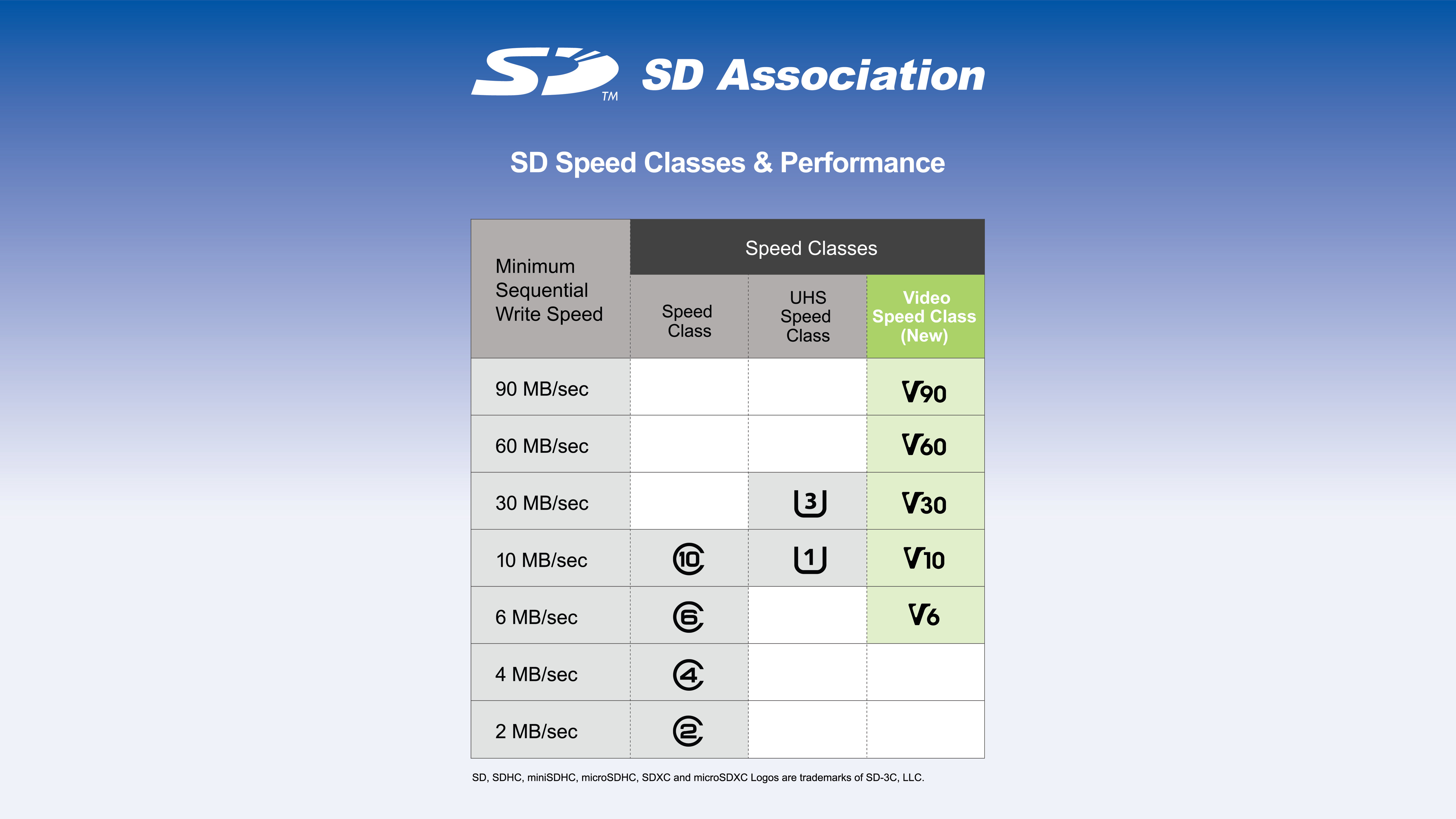 Many of the markings on a memory card relate to its performance in terms of transfer speeds. We'll take a look at each of these in turn. 
Speed Class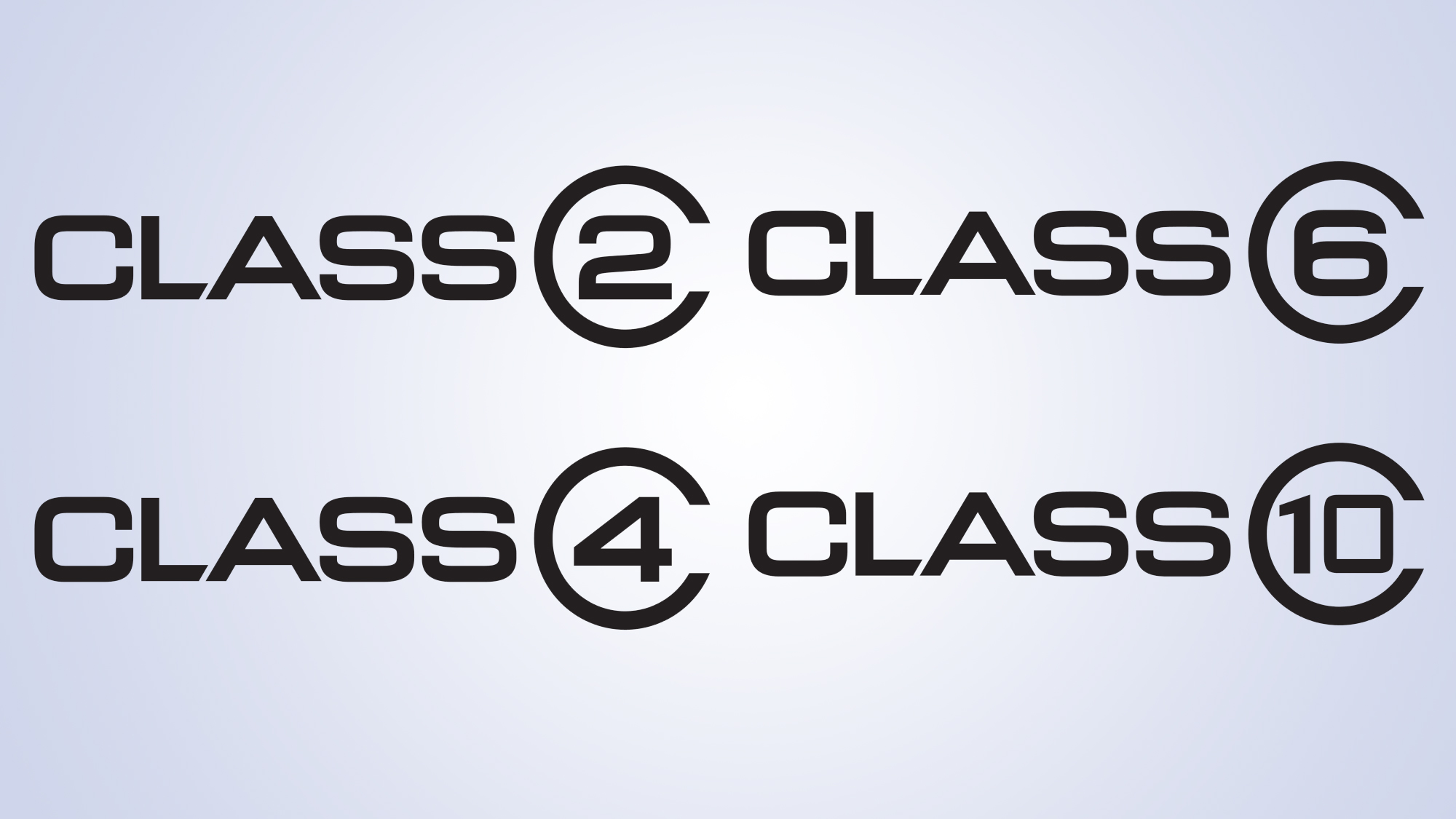 Many of today's SDHC and SDXC cards are marked with a figure such as 2, 4 6 or 10 in an almost complete circle, and this indicates the minimum sustained write speed for that card. This is known as the Speed Class and it's a useful way to assess whether a card is suitable for whatever video recording you may have planned. 
The figures themselves are derived from the measurement in MB/s. So a Class 2 card has a minimum sustained write speed of 2MB/s, while a Class 4 card ups this to 4MB/s and so on. As a general rule the faster the better, although for standard HD video recording you shouldn't need anything too speedy.
Class 10 cards are ideal for Full HD video but if your camera supports 4K video recording you may want to go for a card that also shows its UHS Class. 
Ultra High Speed (UHS) Class
SDHC and SDXC cards typically show the number 1 or 3 inside a U shaped icon. Where you see this, you can be sure that the card conforms to the newer Ultra High Speed (UHS) standard.  
Like Card Class, this provides you with an idea of minimum guaranteed sustained write speeds. A '1' inside the U indicates a minimum sustained write speed of 10MB/s while a '3' indicates a speed of 30MB/s. As the latter type is faster than standard Class 10 cards, these are better suited to more data-intensive operations such as 4K video recording. 
Trying to record high resolution video to slow cards can cause the camera to stop recording, potentially even after just a few seconds, so it's a good idea to think about how you imagine you will use your camera for video when buying a card.
It's now possible to find cards that conform to UHS-I and UHS-II standards, and you can tell which one applies to a given card by checking whether it is marked with a single numeral (I) or two (II). UHS-II cards also have an extra row of contacts at their rear, and they promise even faster transfer speeds than UHS-I, although purchasing one only really makes sense if your camera is one of the recent few that supports this interface. 
Currently, most cameras support the UHS-I interface but not the newer UHS-II one. You can, however, still benefit from their faster read speeds with a UHS-II card reader when transferring images to a computer.
Should you do decide to go for one, you'll be pleased to learn that they are backward compatible with cameras that only support UHS-I, although you won't realise their speed benefits inside such cameras.
Video Speed Class
In addition to Speed Class and UHS Speed Class, there is now a newer Video Speed Class. 
This has been developed with 8K cameras and high video frame rates in mind, and so it's not something that many will necessarily need to take advantage of, particularly as 8K video recording hasn't yet been incorporated into consumer-level products. Nevertheless, as these are set to be available shortly, it's useful to understand how these will be classed. 
The good news is that it's just as easy to understand as Speed Class: so, a card marked V6, for example, promises a minimum sequential write speed of 6MB/s. These will also be available in V10 and V30 flavours to match the demands of 4K video recording, as well as V60 and V90 options intended for higher-resolution 8K shooting.
Need a CompactFlash, XQD or alternative card?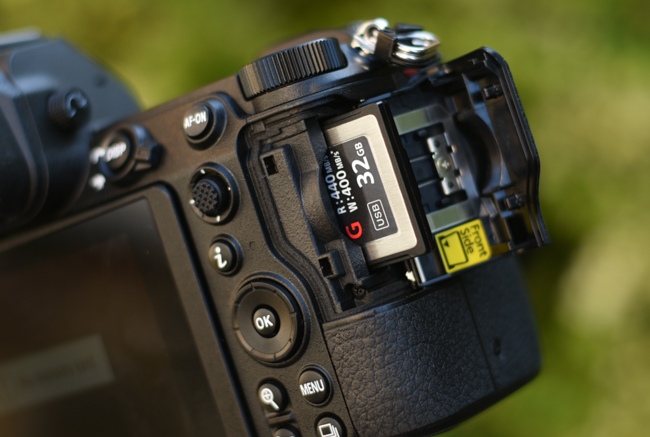 Not all cameras use SD-type cards. The CompactFlash format is still used by some professional DSLRs, while slots for the newer CFast and XQD formats have also started to appear inside some models like the Nikon Z7.
Such cards still show capacity in the same way as SDHC and SDXC cards, and will typically have their read speeds marked in the same way too, although they do not use the same speed classes as SD cards.
With regards to read and write speeds, the fastest CompactFlash cards currently available are marked UDMA 7. Such cards have a maximum transfer rate of 167MB/s, which is slightly faster than the 133 MB/s limit of the previous UDMA 6 format.
Physical protection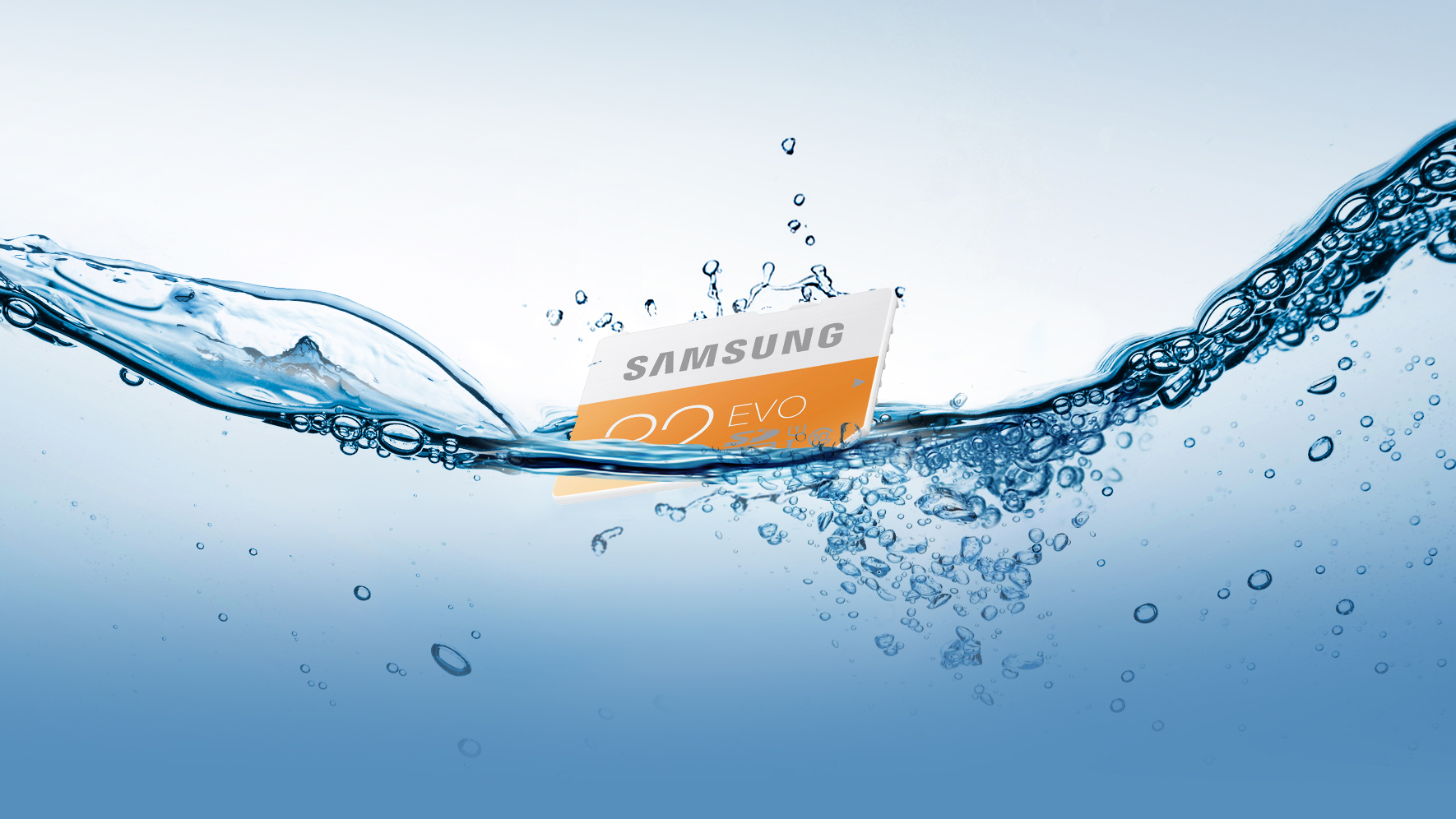 Some cards claim to be protected against water, shock and x-rays to some degree, and may work in more extreme temperatures than standard cards. If you imagine you'll be working in particularly demanding conditions, or if you just want peace of mind, you may want to look out for these. 
The more professional offerings in a manufacturers line will typically have these as standard. Of course, if you do intend to use your camera in particularly harsh environments, it's a good idea to check that the camera, battery and any other equipment you plan on using will remain operational – again, your manual is the best place to check this.
File recovery software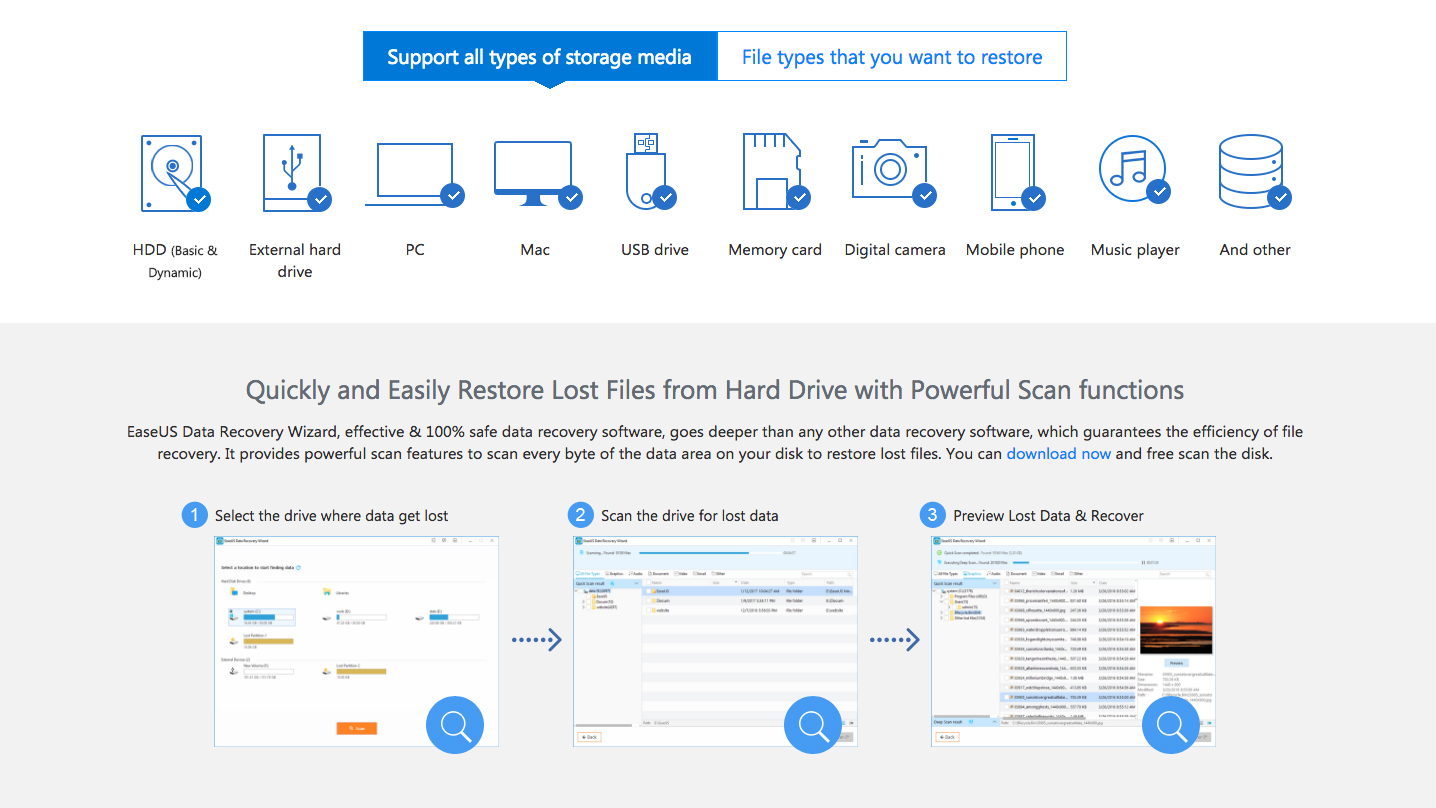 Losing images and videos is all too easy, be it by your own hand or because of file corruption. Some cards ship with software that could potentially recover such files, although you may find success with third-party software too. 
Card reader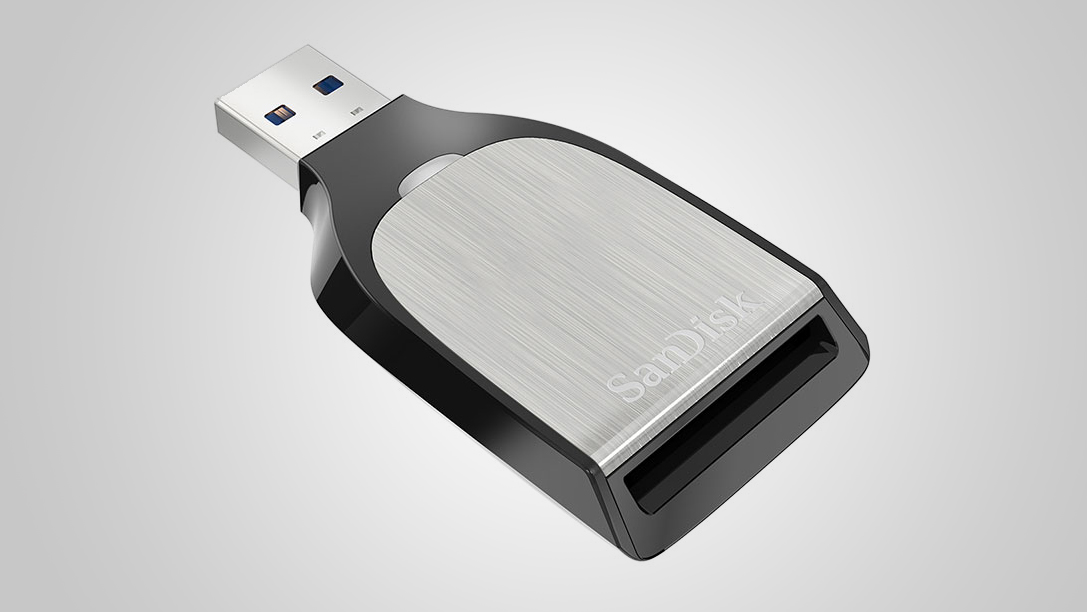 Check to see whether you need to use a specific card reader with your card in order to take advantage of the fastest read speeds. Otherwise, a more standard card reader – be it one that's incorporated into a computer or an external device – will act as a bottleneck here.
5 SDXC cards tested for 4K recording and burst shooting
We tested these cards' read/write speeds for both images and video, recording overall transfer times and read/write fluctuations which could result in dropped video frames. All these cards are UHS-I types, with a single row of contacts on the back. UHS-II SD cards have a second row of contacts, offering up to three times the theoretical speed, though you need a compatible camera.
1. SanDisk Extreme Pro 64GB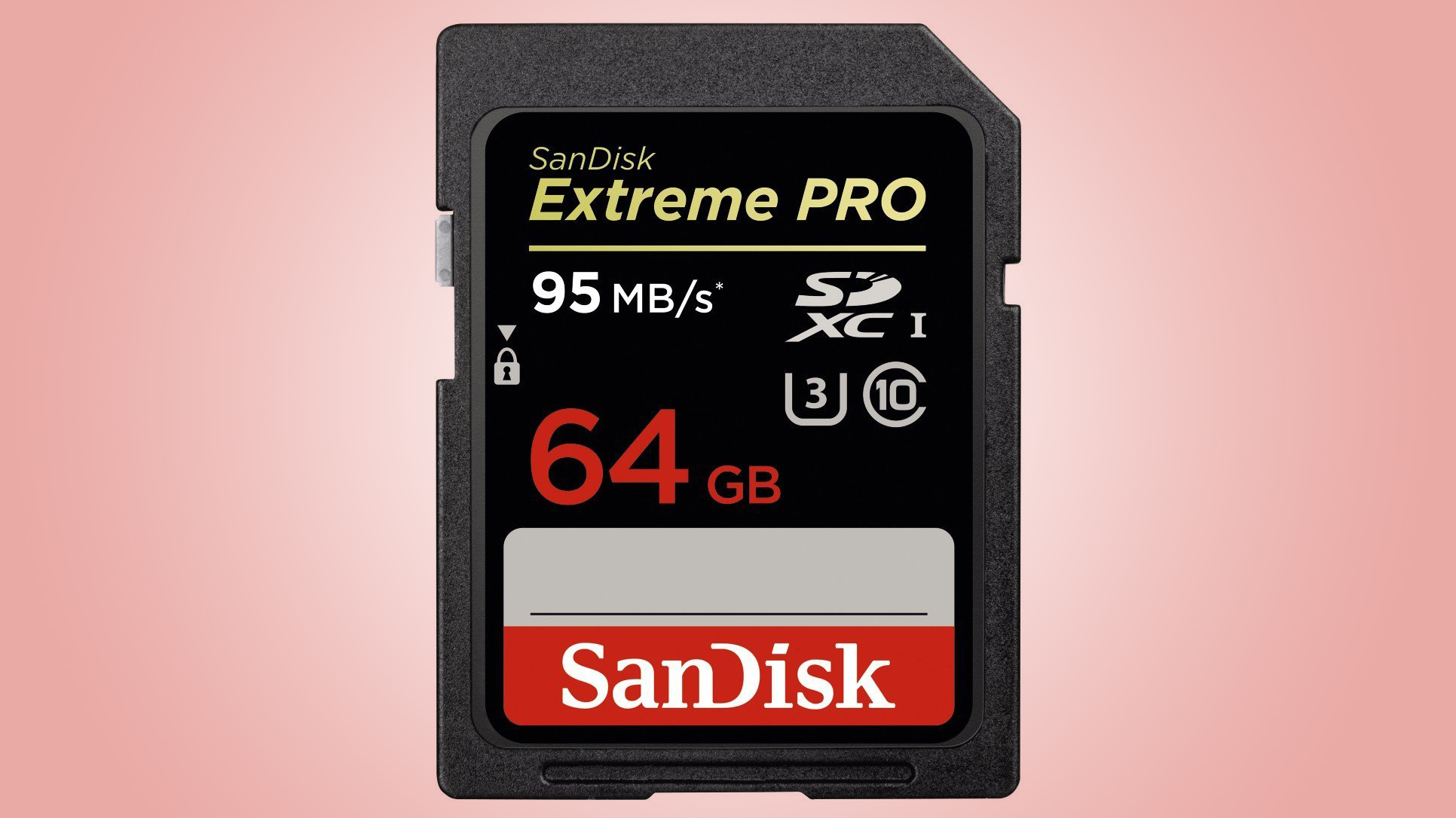 SanDisk's contender produced a blistering 83.3MB/s video write rate, and it wrote images at a sustained 56.4MB/s with no speed dips, making it the smoothest performer here.
2. Samsung Pro+ 64GB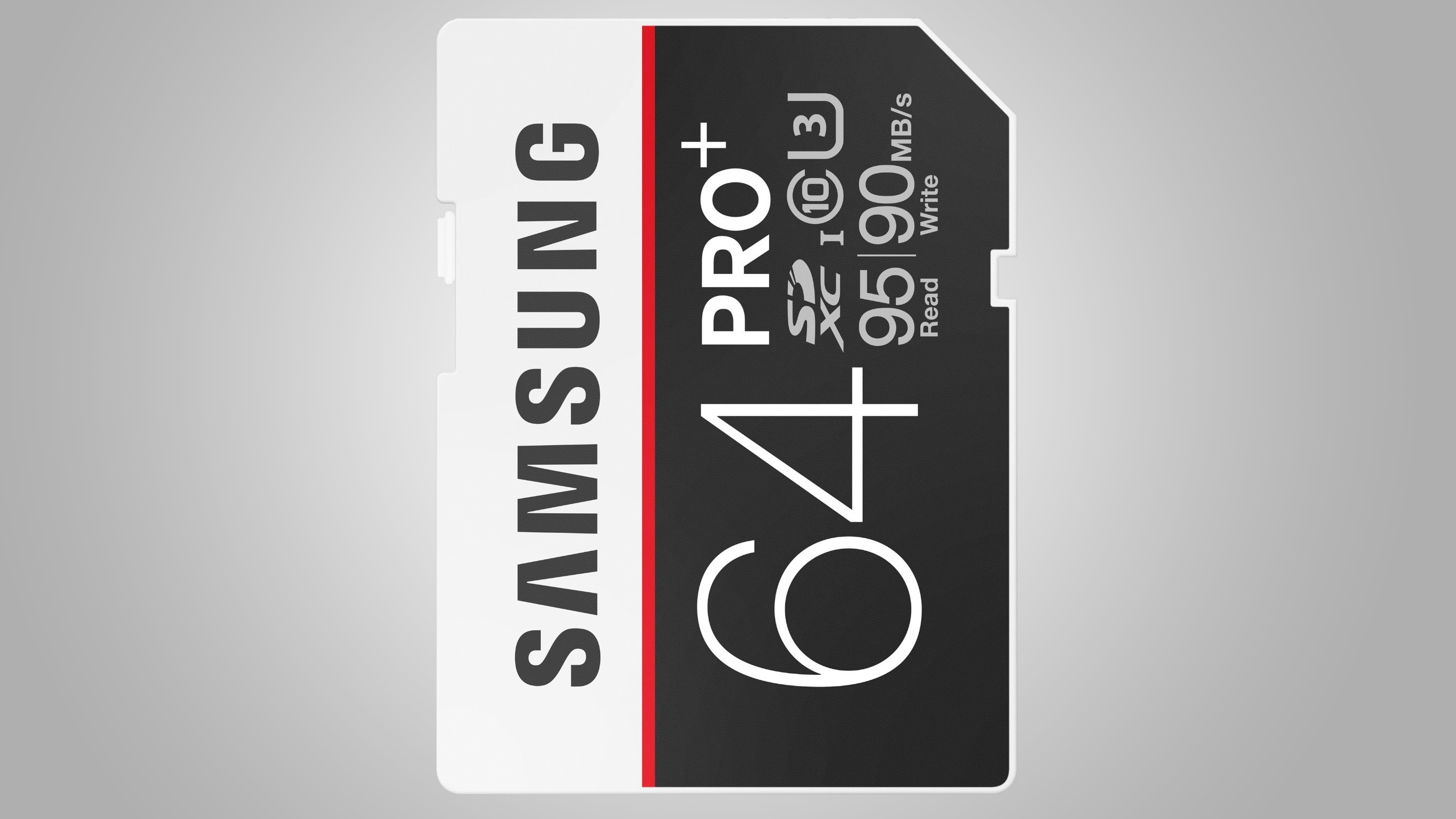 The Pro+ turned in the fastest outright image write rate of 58.2MB/s, but not without some minor speed fluctuations. Read performance is faultless, however, as is video write speed.
3. Kingston SDXC UHS-I U3 64GB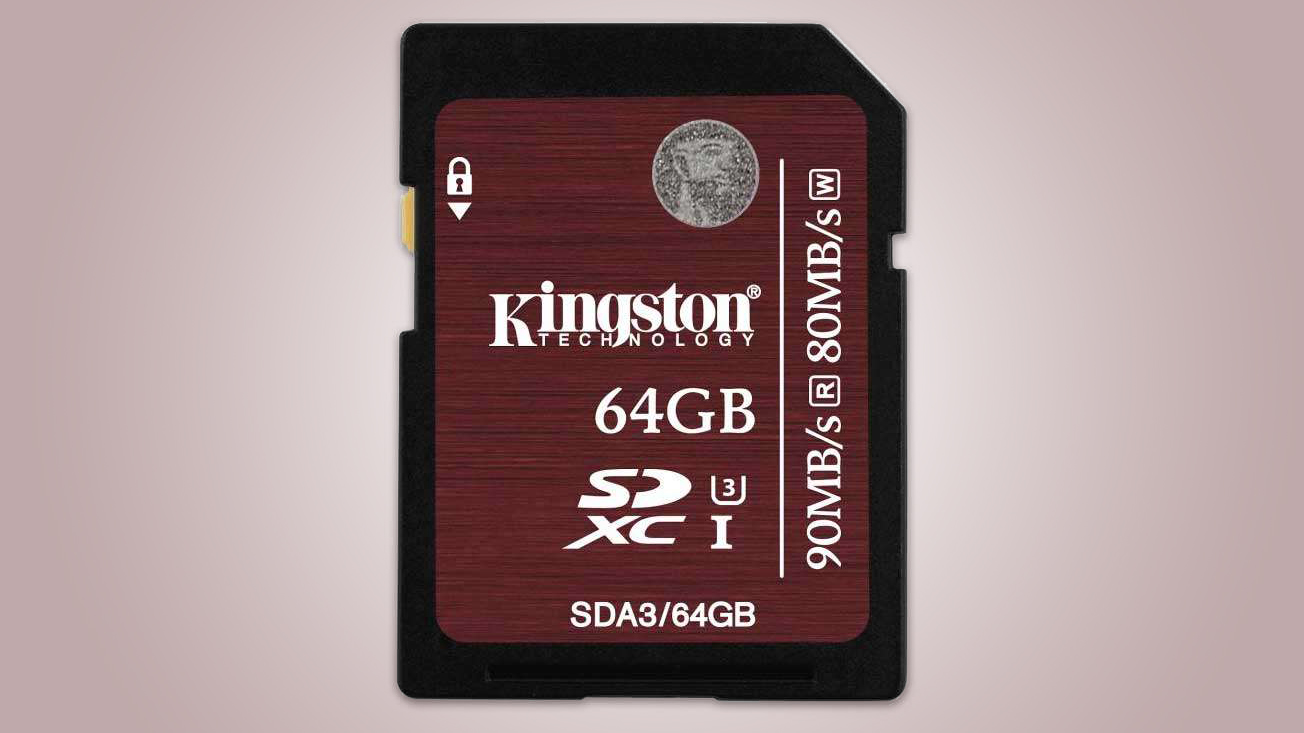 Kingston's fastest SD card managed a whopping 84.1MB/s when writing video, though transferring multiple image files resulted in a mediocre 42.8MB/s, with lots of speed fluctuations.
4. Transcend SDXC UHS-I U3 64GB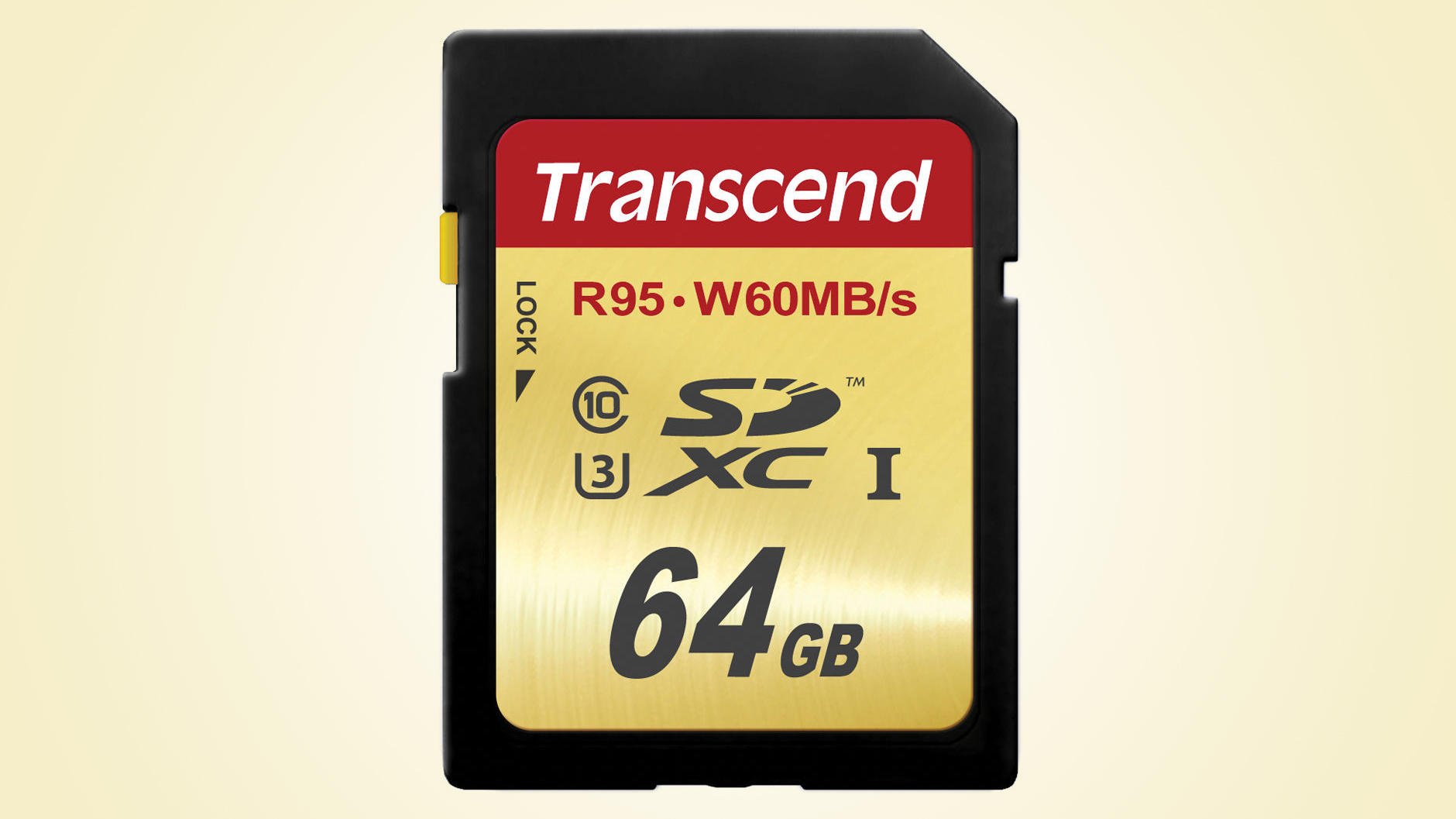 Despite sharing the same speed class ratings as SanDisk's entry, this card only managed an erratic 36.8MB/s average image write speed. 64MB/s when writing video isn't too shabby, though.
5. Lexar Professional 633x SDXC UHS-I 64GB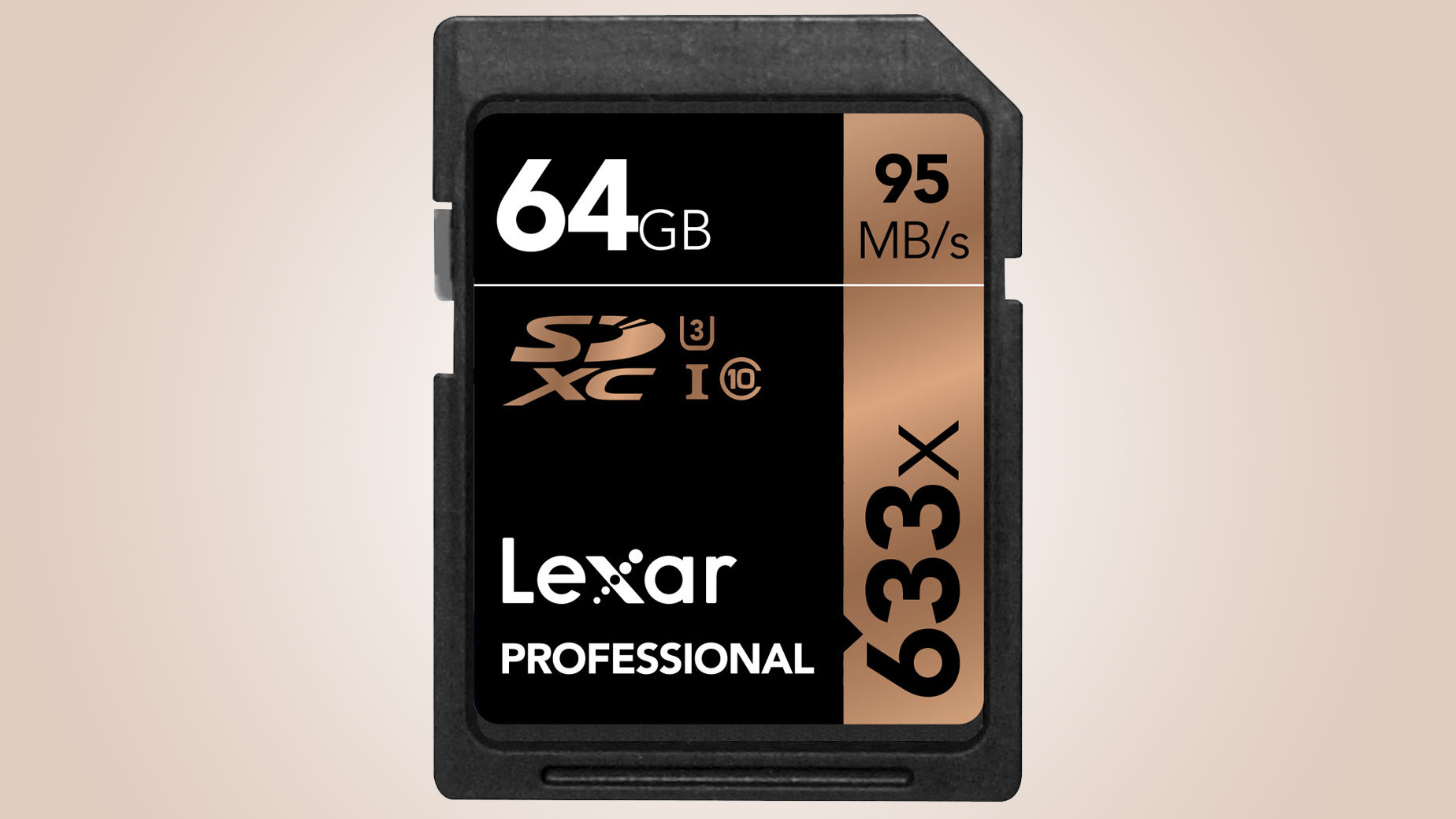 It may only have a UHS Class 1 speed rating, but this card's read rates are a match for the competition. Write speeds of 53MB/s with video and 36.7MB/s with images trail the pack, though.
Alternatively, you could get a microSD card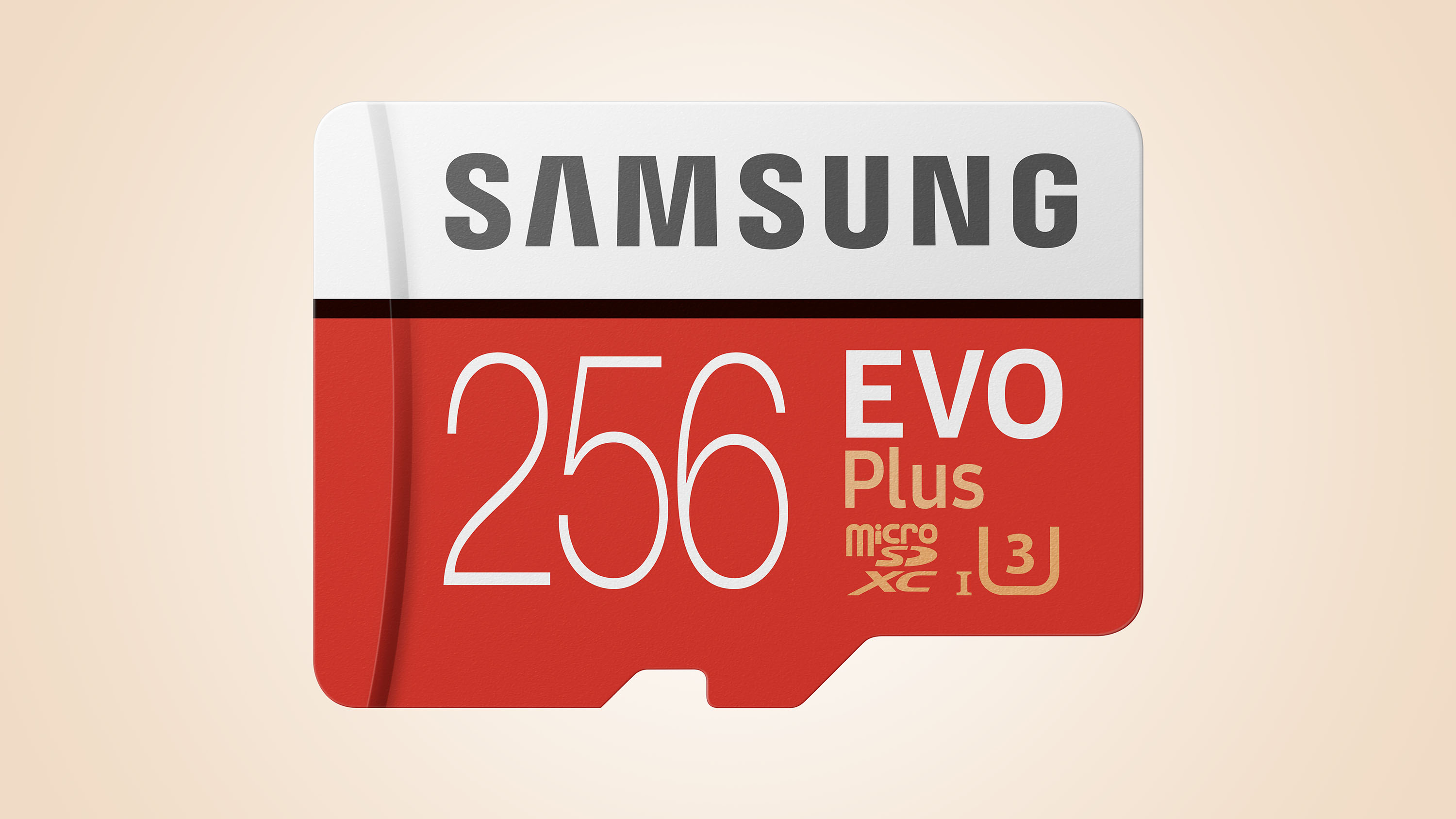 Samsung Evo Plus
If you want to invest in a card that you can use across a number of devices, you might want to look at a microSD card like Samsung's new Evo Plus range. Coming complete with a full-size SD card adapter, the cards feature the brand's NAND technology with read speeds at 100MB/s and write speeds as quick as 90MB/s. As well as this, the card is waterproof, freezeproof, X-Ray proof and magnetic proof.